Orbital Paths by Richard Meyer
Poetry collection
Silver medal winner, 2016 Independent Book Publishers Association, Benjamin Franklin book awards, poetry category
1st Place, Poetry, Northern California Publishers and Authors 2016 Book Awards
3rd Place, Cover & Design, Northern California Publishers and Authors Book Awards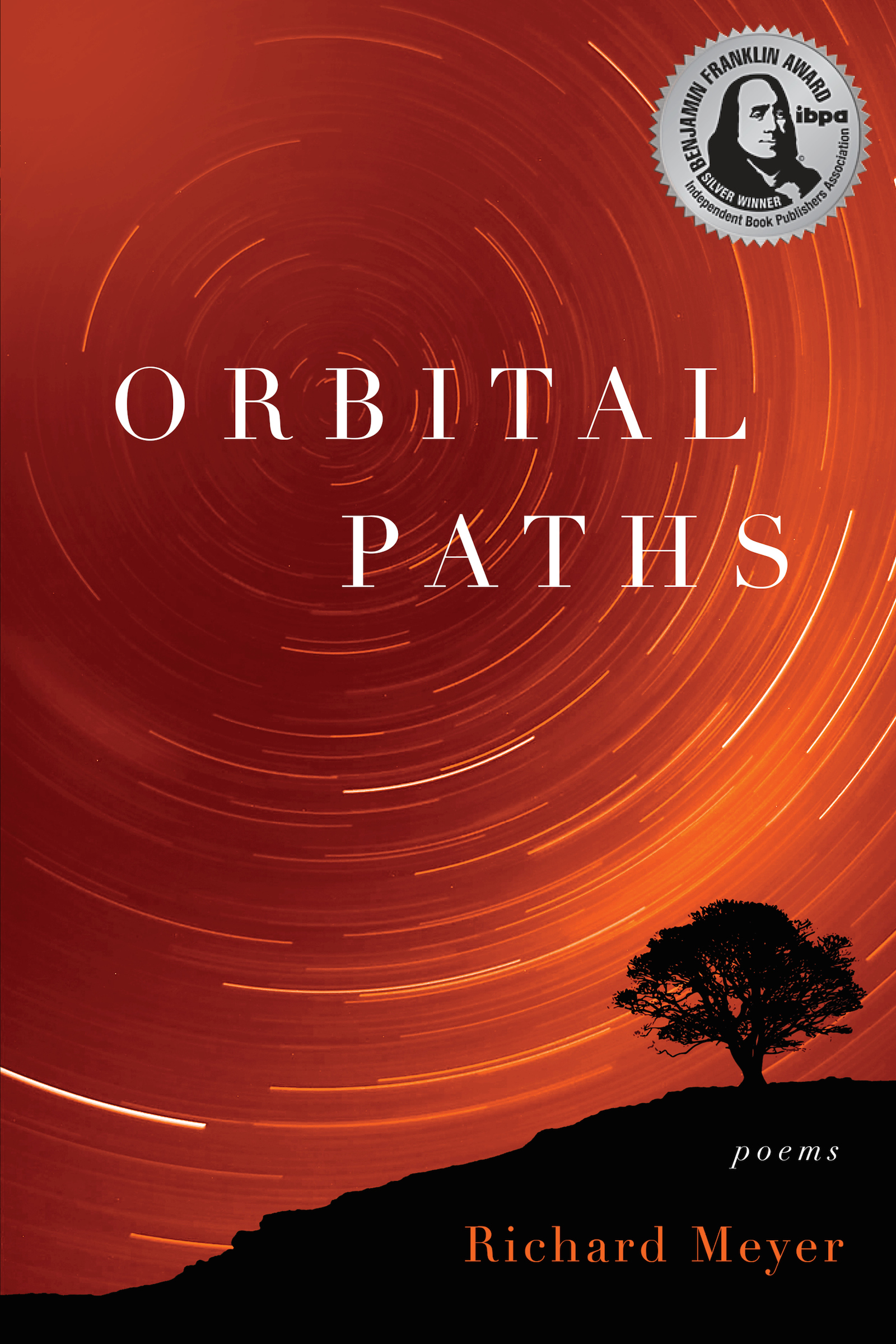 Media coverage of Orbital Paths:
Winner of the 2012 Robert Frost Farm Prize Winner of the 2014 String Poet Prize
In the lyrical tradition of Robert Frost and Emily Dickinson, the finely crafted poems in Richard Meyer's debut collection Orbital Paths are brimming with wisdom and wit. Accessible and begging to be read out loud, these poems travel from the depths of outer space to the backyards and back roads of Minnesota with mature (and often playful) insights into nature, relationships, religion, sex, death, mythology, and more.
"Meyer is a siren. Just try to put this collection down." –Nicole Helget, author of Wonder at the Edge of the World, Stillwater, and The Summer of Ordinary Ways
Indie Bound
Powell's Books
Communion
The moon's a sacramental host,
night air the eucharistic wine
for those who can't give up the ghost
of finding love incarnadine.
I take the moonlight on my tongue
and drink the linden-blossomed air,
remembering when I was young
and mouthed the same unanswered prayer.
Blind Date
after Shakespeare
Shall I compare thee to a summer's day?
Mosquitoes. Rain. Vacation without pay.
October Closing
The red and yellow tents come down,
the trapeze sky turns gray,
a lagging harlequin in brown
looks back and walks away.
Author events / appearances / book signings
7:00-9:00 PM, Saturday, January 14, 2017 Coffee Hag, 329 N. Riverfront, Mankato, MN
6:00-8:00 PM, Thursday, October 20, 2016 The Arts Center of Saint Peter, 315 S. Minneosta Ave, St. Peter, MN Craft of writing talk followed by poetry reading
3:00 PM, Saturday, June 18, 2016 Eat My Words bookstore, Minneapolis, MN
4:00 PM, Sunday, April 17, 2016 "Poetry Reads" event in honor of National Poetry Month, Barnes & Noble Mankato store, River Hills Mall, Mankato, MN
2:00 PM, Saturday, April 9, 2016 Poetry reading, Village Cooperative, Austin, MN
2:00-4:00 PM, Saturday, December 5, 2015 Book signing, Barnes & Noble Mankato store, River Hills Mall, Mankato, MN
6:00-8:00 PM, Friday, November 27, 2015 Poetry reading, Curiosi-Tea House 529 N. Riverfront, Mankato, MN
6:30 PM, Thursday, November 12, 2015 New Ulm Public Library, New Ulm, MN
1:00-3:00 PM, Saturday, November 7, 2015 Barnes & Noble Eagan Promenade store, Eagan, MN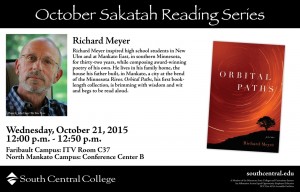 Sakatah Reading Series Noon, Wednesday, October 21, 2015 Conference Center B South Central College, North Mankato, MN
10:30 AM, Thursday, October 8, 2015 Author interview for Weekly Reader, 89.7 FM KMSU (Minnesota State University radio)
7 PM, Thursday, October 8, 2015 Barnes & Noble Mankato store, River Hills Mall, Mankato, MN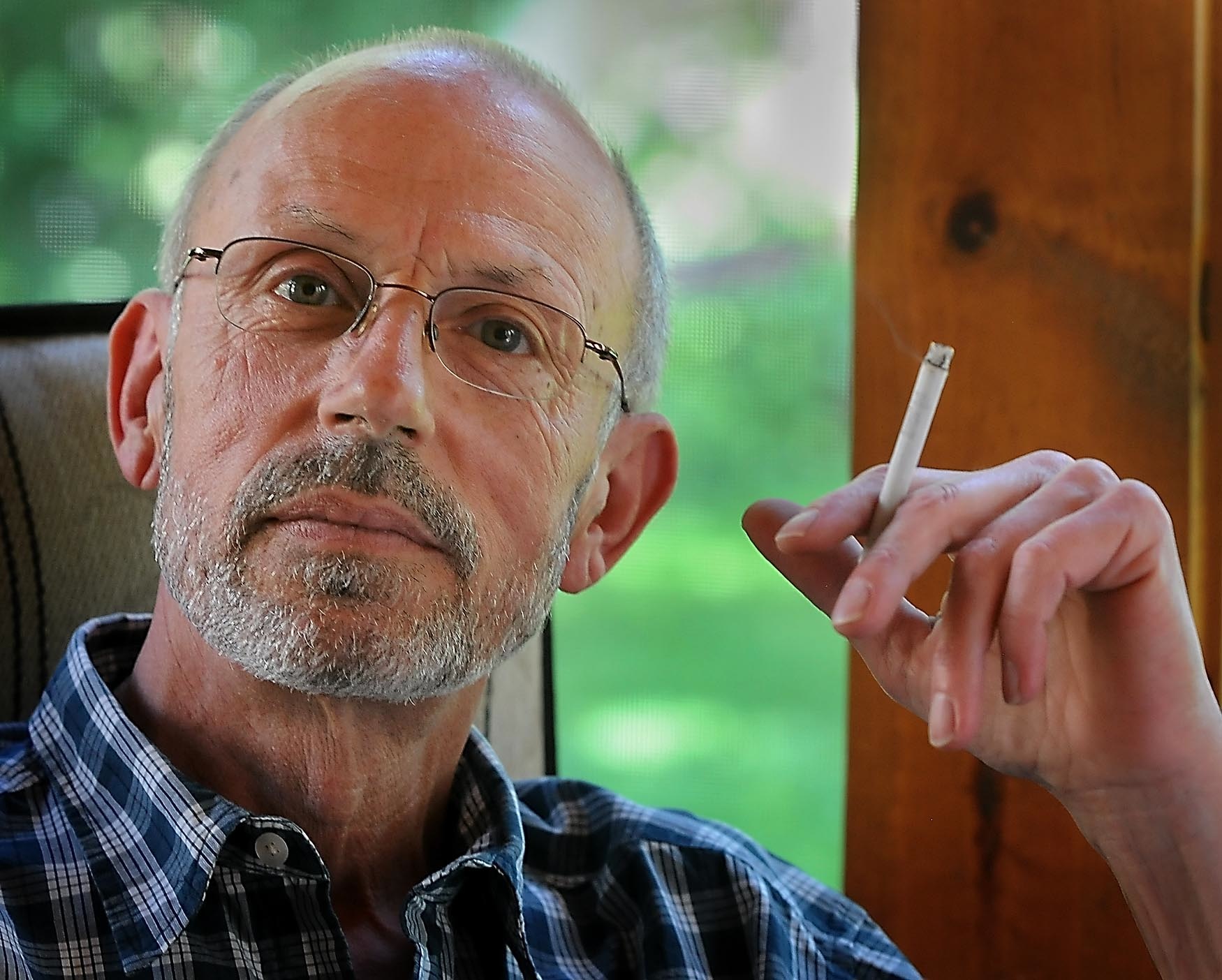 Richard Meyer
Author, ORBITAL PATHS
Richard Meyer inspired high school English and humanities students in southern Minnesota for thirty-two years while composing poetry of his own. He lives in his family home, the house his father built, in Mankato, a city at the bend of the Minnesota River. Meyer's poems have appeared in numerous journals and publications, including Able Muse, Alabama Literary Review, Angle, Autumn Sky, The Classical Outlook, The Evansville Review, Light, Measure, New Verse News, The Raintown Review, String Poet, and Think. Critically acclaimed for his poems "Fieldstone" (Robert Frost Farm Prize) and "The Autumn Way" (String Poet Prize), Meyer has also received top honors in the Great River Shakespeare Festival sonnet contest.
Orbital Paths is Richard Meyer's first book of collected poems.
"Richard Meyer's poems are a delight to read. Their rich language and metrical music draw us in, and give form to a wild and imaginative journey of ideas. These poems are both earthy and celestial, and the poet's eye moves easily from wash hanging on the clothesline to meteors screaming through space. Anchoring it all is a cosmic sense of humor. The effect is enchanting."
John Thavis
"Richard Meyer's generous collection teems with wit and well-tuned songs. Meyer's poems confront science with belief, thought with feeling, earth with spirit, and staunchness with uncertainty. To upend Robert Frost's adage, his companionable poems begin in wisdom and end in delight. His serious concerns—at the heart of such poems as 'The Autumn Way,' his striking elegy for Gertrude Klugherz Meyer—affect us more deeply for their alternation with moments of hilarity: 'Shall I compare thee to a summer's day? / Mosquitoes. Rain. Vacation without pay.' There are too many of these winning moments to count. Orbital Paths is chockablock with signal pleasures, and reading it leaves one enlivened and renewed."
David Yezzi
"Orbital Paths, Richard Meyer's poetry collection, takes you on a wide-ranging and fascinating ride. Heads up when you travel this road. There's surprise at every turn, and around some corners you may run into yourself. Many of these poems sparkle with delightful humor, and in some the clever wit casts a dark shadow. From backyard birds to frozen waterfalls to a gun toting god, these carefully constructed, accessible poems will entertain and enlighten."
Edward Micus
"Orbital Paths is, by turns, a showcase of finely crafted, jewel-like poems of epigrammatic concision and glorious wit, and expansive poems of meditation and mythmaking. It orbits in the gravity of dimensions as infinite as the universe itself, highlighting cosmological and existential mysteries, mysticism, questions of God, and the whys and hows of being in 'our sliver of eternity.' In Richard Meyer's capable hands, there is deft tension between irreverence and homage, sacrilege and supplication, passion and wistfulness, design and happenstance. This is a seasoned debut collection that smoothly melds science, religion, nature and the quotidian with wit and protean intelligence to achieve original insights and cosmic fun."
Alexander Pepple
"From love to death to our place in the cosmos, Richard Meyer leaves no thorny subject unexplored in this often mesmerizing collection. By turns playful and dark (and sometimes both), he puts a fresh spin on common experience, and gets fresh with the likes of Donne, Marvell, and Dickinson as he riffs on poems from the Western canon. Perhaps his greatest gift is his knack for arresting figures of speech: A field "sweats stones/as I sweat salt." A woodpecker becomes a military inspector. Ardor is "a barrowful of hope/ balanced on a single wheel." The human race, marooned in a "vast and bare" universe, mirrors a man lying alone in a bed meant for two. Here's hoping that in our not-so-bare corner of space, Meyer will get the many readers he deserves."
Melissa Balmain
"Richard Meyer's Orbital Paths is a big book in both scope and heart. He addresses abiding themes of love and death and destiny in poems that are sometimes humorous, sometimes grave, and over and over again striking for the directness of their aim—answering what may puzzle or confound us about being human with a well-crafted, sympathetic music."
Richard Robbins
"Witty, lightly philosophical, sonically pleasurable, Richard Meyer's poems will bring special joy to those with a taste for traditional verse. Yet Meyer is a man of our time, full of doubt and wonder as he gazes at the stars that are the subject of many of the poems. True, he often finds a loneliness in a universe rendered cold by science and modernity.  He locates solace, however, in the creativity of the natural world and in poetry itself, 'where something comes from nothing all the time.' These are poems to be read aloud and savored."
David M. Katz
"Whether expansive or tartly terse, the poems in Richard Meyer's Orbital Paths are not afraid to tackle the big themes or converse with the great works. They pay deep attention to nature of various kinds: the human, and the heavenly, and especially the earthy and earthbound—an attention we should treasure, since even now it seems to be passing from the language. These are poems that remember, to use Rhina Espaillat's phrase, "to sing and not to mumble" and that comfort and satisfy with their lucid thought and clear music."
Maryann Corbett
Book Details
Publication date: September 28, 2015 Hardcover | ISBN 978-1-940419-07-7 | 178 pages | $23.99 Trade paperback | ISBN 978-1-940419-08-4 | $13.99 Ebook | ISBN 978-1-940419-09-1 | $5.99 Available through Ingram For bulk orders or special discounts, contact the publisher: Publisher@ScienceThrillersMedia.com